Omarama :A Mountain Community in the Middle of Everywhere"
New Zealand is now Alert Level 1
Omarama is a small mountain community at the junction of State Highways 8 and 83, near the southern end of the Mackenzie Basin, in the South Island of New Zealand. Omarama is in the Waitaki District, Otago.
Omarama is well known to Glider pilots who come to soar the skies and fish the rivers. The Alps to Ocean cycleway passes through Omarama, making it a good central location to base yourself while making the most of the cycle tracks.
Whats happening here!
A fire at the Wrinkly Rams was caught just in time.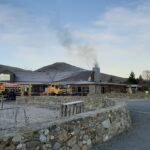 Well done Omarama Fire Brigade with assistance from Otematata and Twizel.
Boat Racing on Benmore and Aviemore this weekend.
Oasis Cafe is now providing Visitor Information
New School Principal is a familiar face
A decision on the Gliding Operations is Imminent
Read all this and more in the latest Gazette