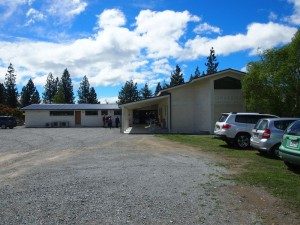 The new Omarama Community Centre was opened on Friday 25th October 2013
The Omarama Community Centre 4WD Tour FLYER
The Omarama Memorial Hall was originally built in 1959, the previous one having been destroyed by fire. It is situated between the public domain, sportsground, Kidzone playground, and the Bike Pump track/climbing rock area.  There is ample land available for expansion without using any of the existing car parking area.
The Hall is now 52 years old and has had no real capital expenditure since 1959. 
There are many critical shortfalls in safety and functionality.  There is a serious sanitary issue as there is no running hot water.  The kitchen zips are decrepit.  There is no built-in heating, no fire alarm or security systems, the wiring is unsafe, the plumbing regularly leaks, and it does not meet modern safety or building code standards.  It cannot be used at all in the winter.   Also there are no facilities for the disabled.    Earthquake strengthening is another urgent priority which will be met by the upgrade. 
We have been unable to hire the hall to recoup costs for many years now because of its poor standard and inadequate facilities.  This has been costly to the community. 
A Public Meeting and visioning day was held in 2009 at which time the Community indicated a very strong desire to redevelop the hall.  This was seen as the number one community priority for Omarama.
Construction is due to start on the 18th March and be completed by early June.
Look at the changes – Amazing to see